CRM
LAUNCHPAD
Get started with CRM for a (low cost) fixed price setup, zero investment in software and no ongoing costs.
Your members are your most valuable asset! CRM Launchpad puts them

front and centre (and gives you a

toolkit to attract, engage and delight them).
First, we
give your team a single unified view of every member (and prospect).
Gathering everything you know about your members (contacts & companies) together, we'll map fields around your structure, service and processes, configure your CRM and give you a single unified contact record for every single member and prospect.
Then, we make it easy for your team to find, filter and sort members.
Using your data, we'll segment your contacts based on their behaviour, company and contact information, their location and much more. We'll create lists and filters so that your team can find, sort and filter contacts easily.
You can use the same lists to target member engagement so they receive communications from you that they actually want, need and care about.
Next, we'll set up a collaborative inbox to share conversations throughout the team.
The collaborative inbox brings together messages from and chatbots, team emails, contact requests plus facebook messenger and allows the whole team to view, manage, and reply to conversations from one central place.
No more checking who sent what to who and when or embarrassing phone calls doubling up on requests.
Then, we'll add real-time tracking so that you know who's engaged (and who isn't).
We'll setup some magic to track and log your leads' activities in a tidy timeline, so you know exactly where they are and what they're interested in.
Not convinced yet? CRM is powerful alone, but the real magic happens when you add integrated marketing, sales and service tools into the mix.

Landing pages

that generate leads and look great on any device (without designers or IT support)
Conversion tools

(like forms, popups and chatbots) that convert visitors into leads.
Advertising tools

that make targeted Ads easy and effective by synchronising leads and audiences with your data.
Targeted marketing emails

that are sent to the right person at the right time.
Dashboards and reports

that let you monitor member engagement and improve conversions.

A structured sales pipeline

, robust process and full visibility into your sales health.
Templates and shortcuts

that save time creating, sending and following up sales emails.
Real-time reports

that monitor performance and help set, meet and exceed sales targets.
Sales calls that book themselves

without endless back and forth emails.
A library of content

that's easy to share. And tells you who's read it (and when).
A unified help desk

to keep track of contact and support requests.
Convenient support channels

that meet today's consumer expectations.
A central conversations inbox

capable of managing conversations from all support channels.
Actionable data

and reporting that drives customer success (not just customer service).
Who is Launchpad CRM for?
Small Teams.


Who are strapped for time, resources and (or) strapped for cash.
Larger teams.


Who want to engage with members more but don't know where to start.
Membership Organisations.


Who need to see what a CRM can do before they make a commitment.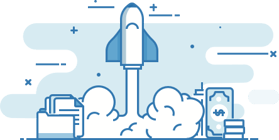 CRM LAUNCHPAD
£995

(+VAT)
Includes everything above, with zero investment in software and no ongoing commitments. Here's a quick look at how it works.
Big Hello survey
Before we arrange your discovery meeting, we kick the project off with our Big Hello survey. Don't worry, it's quick and easy to fill in. It just means that we hit the ground running in our discovery session.
Discovery meeting
When we get your Big Hello back, your implementation specialist will arrange and host an initial one hour discovery call with you and your key marketing, sales and support stakeholders.
In this session, we'll gather details about:
Your products and services
Your long term mission
Your short to medium goals
Your members
Your current technology stack
Where your data lives
Following the initial discovery session your implementation specialist will create and send over your personalised project plan, including timelines, who will do what so that we're all on the same page. They'll also ask you to send over some things we need to the technical setup and config of your CRM Launchpad.
When we get this back, we will complete the initial technical setup and config, including:
Your brand kit (logos, colours etc)
Domains
Tracking code
Email types
Then, they'll send over invites to the key marketing, sales and service contacts and arrange the next session.
Once the appropriate team members have access, the next session is all about integration and data migration where your implementation specialist will work with you to:
Identify core contact data points
Create some custom properties
Setup available third party integrations
Import/synchronise existing contact lists
After this session, you'll be able to see your CRM taking shape, with all of your contact data in one place. And, because we will have already connected the tracking code, you'll start to see what real-time engagement looks like on a contact's timeline.
We'll leave you with a small amount of homework to think about your marketing/member personas (your target audience) and fill in our simple one page 'Pragmatic Persona' template for each.
When we get your completed Pragmatic personas back, your implementation specialist will arrange and host a two hour Marketing Setup and onboarding session. During this session, they will work with you to:
Create segmented lists based on your marketing needs and personas
Create a lead capture form that feeds into your segments
Create an initial landing page and include your lead capture form in it.
Create a chatbot and use it to capture leads from any page on your site
Create a lead generation Ad to drive traffic to your new landing page
Create an email using your segmented lists to follow up new conversions
Your implementation specialist will arrange and host a two-hour Sales Setup and onboarding session. During this session, they will work with you to:
Define your deal stages
Set up your pipeline
Create example sales email templates for your team to refine and improve
Create up to x5 snippets to be used in sales prospecting emails
Setup your task and call queues
Configure your sales dashboard and reports
Onboard the sales team
Your implementation specialist will arrange and host a two-hour Service Setup & Onboarding session. During this session, they will work with you to:
Setup your service desk
Create and configure your ticket pipeline
Connect and use your conversations inbox
Create a chatbot and use it to direct support queries
Create your service dashboard and reports
Feedback session
Before we help you hand over the CRM to the whole team, we'll arrange a quick review session with your initial team to make sure that you are happy with the service so far, that you have everything you need to move forward and agree on the handover process and next steps.

Whole team hand over
Next steps agreed and a happy implementation team all round, your implementation specialist will arrange and host a whole team hand over session. During this session, we'll use the real-world examples setup during the marketing, sales and service onboarding sessions to show the whole team the benefits your new CRM are already bringing to the organisation.
Whole team invitation
After the handover session, your whole team will be fired up and raring to have a go with the new CRM and all its trimmings. So, we'll leave you with an invite ready for everyone.
Tools and resources:
Whilst, our hands-on involvement may be over at this stage, your's has just begun. And, whilst we're confident that your implementation teams enthusiasm will catch on and allow you to multiply the quick wins we have made to date many times over in the coming months. To make sure, we'll leave you with a whole host of free training and resources that the whole team can use to attract, convert and delight customers for a long, long time to come.
Approx one month after we hand over your CRM, we will conduct a complimentary audit to see how you are getting on. During this audit, we'll provide specific insights on how you can improve and maximise the benefits from your CRM.
You can expect to receive:
An overview report of your CRM

Actionable recommendations and improvements

Half an hour call with your implementation specialist to talk through the recommendations and answer questions